When it comes to these orchid type flowers you can get these as fresh flowers for bouquets and flower arrangements and also as potted plants.
There are a ton of fresh flowers out there in the world, but there always are some special ones. From Roses to Lilies we see a huge variety of flowers with tulsa florist. And one such versatile flower is Orchid. From wild orchid flowers to commercially cultivated ones you will find a huge variety for this flower with Wild Orchid Florist.
What are the types of orchid flowers?
Thinking of orchids a very specific picture might come to mind but to your surprise orchids have a huge species. With more than 25,000 species there are so many types and kinds of Orchids. What makes Orchids stand out from other flowers is their symmetry and detail. Coming to the types of orchids you would be able to spot commonly around you are Phelenopsis, Cymbidium, Mokara and Dendrobium.
When it comes to these orchid type flowers you can get these as fresh flowers for bouquets and flower arrangements and also as potted plants.
What do orchids symbolize?
It was during the early Victorian era when flowers were designated a meaning, and today we also have orchid flower meaning. When it comes to a general orchid meaning it represents beauty, charm, royalty and thoughtfulness but there is more when it comes to colors of orchids meaning. Since this flower grows in more than one color, each color has a different symbolism.
WHITE- A chic white orchid symbolizes innocence, elegance and purity.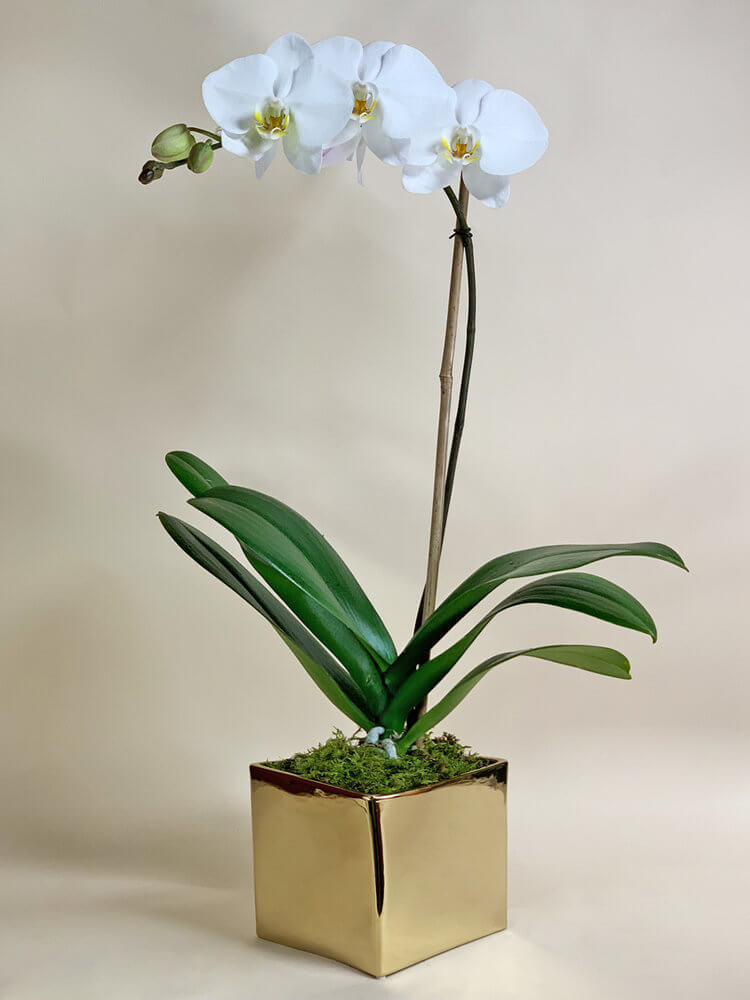 PINK- A sweet pinky shade represents joy, grace and femininity.
PURPLE- This color was a symbol of royalty so purple orchids mean wealth, luxury and royalty.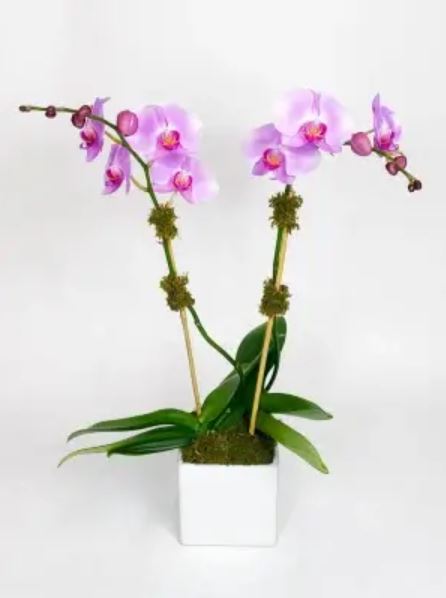 YELLOW- A happy color to have around you yellow ones represent being joyful and new friendship.
ORANGE- Another bright color which represents zeal and pride.
What are some Orchid flower facts?
You must be wondering how long do orchid blooms last? Orchids bloom during spring and are at their peak during the month of March and last for a couple of months after that. Interestingly now there are hybrid species of orchids which you will find growing in December and January as well. A great thing about orchids is that they are easy to grow as well. Get a potted orchid plant and grow it for yourself. When it comes to the care for this plant, orchids do well in well lit spaces and indirect sunlight. Direct sun is too harsh for them. Another thing to keep in mind is the soil, Orchids need a loose and airy soil mix. Make sure to get them in a not so small pot or you would have to re-pot it pretty soon.
Orchids no matter what kind or color you pick look undoubtedly beautiful, you can easily get them around you and they are embedded with values and meaning. Orchids work well for every occasion and you can always switch up the colors for a perfect fit. Instead of wrapped bouquets you can go with flower arrangements assembled in a clear glass vase. And also get same day flower delivery in tulsa ok.